Montreux is both a city and a political municipality. The 2000-meter-high mountains protect the city, which is located on Lake Geneva. It is a well-known tourist destination due to its climate and subtropical vegetation. The city's most popular attraction is the waterfront. The hotel palaces, casino, and congress center are located here. From this location, you have a spectacular view of Lake Geneva and the Grammont massif as well as the Dents du Midi peaks. It is a municipality that covers 33.37km. It has 19% housing and infrastructure, 25.3% agricultural areas (55.8% of pasture), 50.6% of wooded areas, and 5 percent of unproductive areas.
Montreux's minimum elevation (lowest point on the ground in the municipality) is 371m. Lake Geneva is at its highest point at 2,025m. The highest point is at the ridge of Naye rocks (2,042m), belvedere, which offers a panoramic view of almost all of Lake Geneva. Cape au Moine, at 1,941 meters, is the highest mountain whose summit lies on the municipality's territory.
History of Montreux
Montreux was established before the beginning of the twentieth century. The important military route that led to Lausanne via Montreux was the Roman Empire's Great St. Bernard to Aventicum, or from Avenches to Lausanne during the Roman era. The Burgundian period saw the construction of a burial ground. This was the beginning of the tourist vacation at the site. The original name of the city is Latin monasterium (monastery). The Girard of Oron acquired the entire area in 1295. The northern portion (later known as the Le Chatelard Estate) was initially in the hands of the Lords Of Oron as a Savoy fiefdom but was later transferred to the La Sarraz family through marriage. Both parts were brought under the control of the Bailiwick of Chillon in 1536 by Bern's conquest of Vaud.
It best Time of Year to Visit Montreux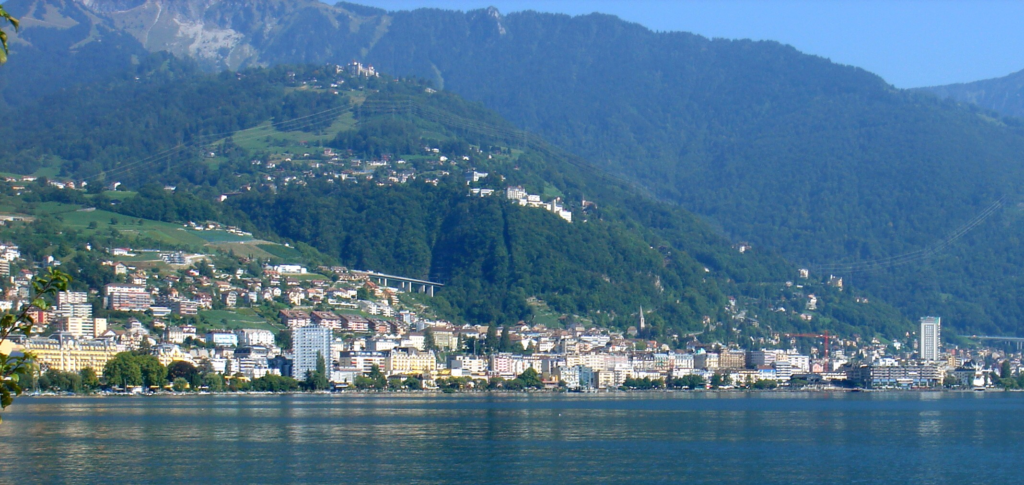 Montreux, unlike other Swiss destinations, is not known as a ski area. However, there are several resorts that offer winter sports within easy reach. Winter visitors are attracted to the Christmas Market, while summer visitors love activities such as boat trips, paragliding, hiking, and watersports. It is also a great place to visit in spring when the flowers that line the lakeside promenade will be in full bloom. It is a stunning sight. Although temperatures aren't very warm, it is a quieter time to visit than the peak summer vacation season.
4 Top Activities in Montreux
Let's get right into it and take a look at 4 of the best Montreux things to do based on ratings and tourist reviews.
1: St. Vincent Church
It does not matter if you are religious, the Church of Saint-Vincent is a wonderful place to visit. The view from the top is of the town, lake and mountains. You may hear the choir singing if you are lucky. Tourists consider it a must-see and one of the most beautiful spots in the world. Plan a vacation to it, and also make sure you visit all of the wonderful places mentioned above. You will treasure every moment.
2: Corniche Lavaux Vineyards
You should visit the Lavaux Vineyards during your vacation. The area is beautiful and vast. It measures approximately 30 km in length and covers 830 hectares. You can either go with a guide or on your own and enjoy the view of Lake Geneva from the other side. There might be an opportunity to taste wine. Corniche Lavaux Vineyards, a UNESCO World Heritage Site is a must-see on holiday.
3: Lakeside Promenade
The eight-mile-long its lakeside promenade runs between Vevey and its. The route passes the picturesque lake and snow-capped peaks. The route can be walked all the way or you can just walk a portion of it starting from town. Many people start from its famous Freddie Mercury statue, right next to the covered market. This is a popular thing to do in it, whether you're there in the summer or in winter. It's always busy.
4: Montreux Museum
It's useless to learn about the history of the area you are visiting. When you're out, make sure to stop by the Musee de its. You don't need to travel far to get there. The museum offers historical information about the area as well as a wonderful collection of art, archaeology and sculpture from at least two centuries ago. You will also find something new every time you enter the museum.
How to get to Montreux?
Geneva International Airport is the nearest airport to it. The simplest and most convenient way to travel between Geneva by train is to use one of the regular trains that connect the two Swiss destinations. The trip takes approximately an hour and a half, with trains departing about twice an hour. This scenic train route runs between Interlaken and Zweisimmen, Lucerne. You can also reach Montreux easily by train from other Swiss cities and towns. If you rent a car, you may opt to drive. The trip from Zurich takes approximately two-and-a half hours. Place du Marche is the best and cheapest place to park in town. Parking may also be available near Chillon castle and the lake.
Best Tips of Montreux
1. Studying
It offers the opportunity to pursue an undergraduate degree, or to find a foreign graduate school that specialises in business and hospitality. You can apply for a Bachelor's Degree in International Hospitality or Events Management, Business Administration, It also offers a Master's in International Business.
2. Career opportunities
Universities play a key role in student employment. They focus on events, forums and close collaboration with high-profile companies. Even CEOs of internationally renowned companies can also find employment. The majority of locals work in agriculture, forestry and also fishing.
3. City life
Montreux's unique urban life is built on its history, energy, and music. Parks, concerts, and also monuments are the lifeblood of Lake Geneva's bay. There are many activities in the city. A Tourist hotspot is also the statue of Freddie Mercury, which covers Queen's "Made in Heaven".
Final Thoughts
It is a great choice if you are looking for a small town that has so many things to do you will never be bored. There are many amazing sights and activities in this town that will appeal to all ages. It offers a unique, all-in-one vacation experience that also combines historic sites with stunning scenery and modern museums.