Porto Katsiki, 40km southeast of Lefkada's capital, is one of the most popular and beautiful beaches in Lefkada. He is consistently on the TOP 10 lists of the best beaches in Greece and Europe every year. Even though shepherds were the only ones who used to go here looking for the lost goats in the past, this is what gave the beach its name "Port of the goats". This is what few people recall when they visit the beautiful coast of Porto Katsiki. It has become a symbol for a holiday on Lefkada's beach.
What is a Porto Katsiki?

Porto Katsiki beach has a unique location on the Ionian Greek Island of Lefkada. This area was once only accessible by goats. It is known for its clear blue waters and beautiful landscape. It is located southwest of Lefkada town.
The stunning natural beauty of Porto Katsiki Beach is one of the most recognizable themes on Lefkada island. It can be a little scary to drive to the beach during the summer. Porto Katsiki beach has been very busy during the summer. You can either buy coffee at the coffee shop or order coffee and refreshments on the beach.
Parking is available at Porto Katsiki Beach, but it's not required. Every day, famous one-day cruises pass by Lefkada. The boats can be left at the beach during the off-season. However, if the beach is crowded, they will allow you to go further away from the beach and you can jump from the boats into the water. This is a great way to get to Porto Katsiki.
1. How to get there
Lefkada, although an island, is easily connected to the mainland. You can access Lefkada via the bridge that connects the two lands. You will need to plan for a 44-km drive if you are going to Porto Katsiki via Lefkada Town. So, you can book your transfer online. Book a taxi, minibus or VIP car. The vehicle can be picked up from the airport in Aktion/Preveza or at your hotel.
Another option is to rent a car. This is a great option for anyone who wants to set their own schedule and explore the island as they wish. The rental will cost at most 14 euros per day. You can pick up your rental car from the Aktion/Preveza Airport or from your hotel.
2. Weather conditions
If the weather is not ideal, it can be difficult to travel to Porto Katsiki. Additionally, Lefkada's roads are not ideal so driving by car can be difficult for less-experienced drivers. If you are planning to rent a boat privately, make sure to check the forecast for windy weather.
You should not sail in dangerous weather if there are too many waves.
3. Activities to do
For those who want to sunbathe and lay down, this is the beach for them. If you are looking for something more, there is a wide range of water and beach activities that you can do. Porto Katsiki offers unforgettable memories, including body-boarding, sailing and swimming.
If the weather permits, you can surf on the beach. Avoid snorkeling due to the soft limestone rocks. It will be difficult to see beyond your mask. Remember that you will need to have your own equipment and gear for water activities.
What will you see in Porto Katsiki?
It is possible to find parking difficult if you go there in July or August. There is a designated parking area above the beach. There are canteens that overlook the beach from the top of the parking lot. This magical spot is worth stopping to take photos and drink something.
There is a ladder that leads down to the beach. The beach has pebbles mixed with sand. From noon until sunset, the rocks behind shade the beach. You can also visit the beach without a car by taking part in mini-cruise tours.
Pros and Cons of Porto Katsiki
Pros
This beach is also beautiful and is the main reason people travel to Porto Katsiki.
Porto Katsiki is a beautiful place that attracts people from all walks of the globe.
It's very soothing to see the turquoise beach and white pebble shore.
Many people come to this place for amazing photo opportunities. Imagine the possibilities for your Instagram!
People come to this site to say, "Yes, I've been and seen Porto Katsiki."
That's it.
Cons
Although there are many cons, I believe you should visit the beach at least once. You don't have to go back more than once.
This beach is located in a remote area of the island, with narrow, winding roads that are partially unpaved. This is not surprising as it's typical of the Greek Islands so we don't surprised.
You can only access the beach via a narrow, steep staircase. The beach is not suitable for those with limited mobility.
Porto Katsiki faces the open Ionian Sea so the waves can be a bit hostile. It is not always a swimming paradise. Although the beach was calm when we visited, it can be volatile and change at any time.
What to eat and where it is?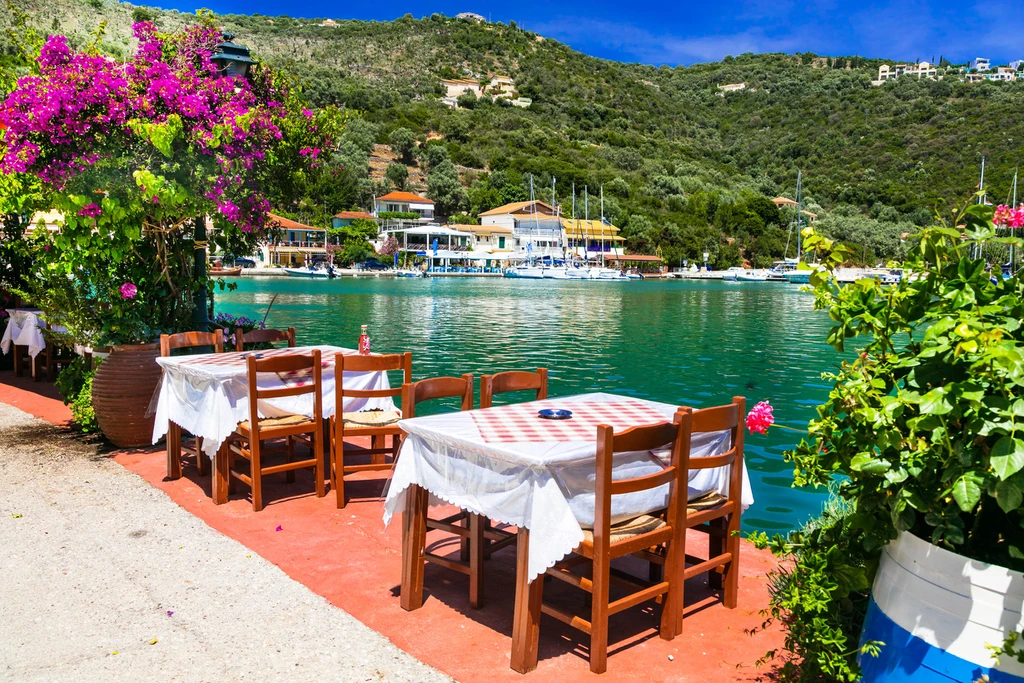 Bilvi cafe-restaurant is also the perfect place to enjoy wine and fine dining. You'll be amazed at the stunning landscape surrounding the cafe-restaurant, which is located in Porto Katsiki. You'll be amazed at the variety of colors, from the whitewashed cliffs to the lushest greenery in Lefkada. It also offers free parking and a free swimming pool.
You might be thinking of using the sun to your advantage and getting that beautiful, sun-kissed glow. Or maybe you just want to enjoy a meal on the beach. You don't have to worry about it, Bilvi cafe-restaurant can deliver your favorite food on the beach free of charge. You can enjoy delicious food, such as tuna salad, chicken nuggets, and chocolate souffle with vanilla ice cream while you relax.
Important Things to Know about Porto Katsiki
These are just a few tips to make your stay in Porto Katsiki enjoyable, relaxing, and comfortable.
The beach was partially destroyed by the 2015 earthquake. We were there when they cordoned off a portion of the cliff.
Parasols and sunbeds are only available in the high season of July and August. For 2 parasols and sunbeds, the set price is EUR10 to EUR20.
Athani is the nearest village. Here you will find a few Tavernas that offer stunning sunset views from their terrace. You can combine your Porto Katsiki visit with dinner at one of the tavernas. This was what we did and it was very enjoyable.
Nearby is a café restaurant with a terrace named BILVI. This is the first thing you'll see before you reach Porto Katsiki. This is the closest toilet and sit-down restaurant. Order food online and they'll deliver it to your beach location.
Due to the beach's popularity, it can be congested on certain days and hours. It's best to arrive early in the morning, at least before 11:00, or later in the afternoon, after 16:00.
Conclusion
Everyone who wants to relax and enjoy a few water sports will find Lefkada a paradise. Porto Katsiki will make you want to return to Lefkada to explore more of it during your next vacation.
FAQS
Why is Porto Katsiki beach famous?
Porto Katsiki, a beach is also located in a special landscape at the base of concave rocks that surrounds the beach. This makes it inaccessible from the ground. Boating is also the best way to reach the beach and enjoy the beauty of the beach.
Is it possible to rent parasols and sunbeds at this beach?
You can find parasols and sunbeds at the beach, but it is best to bring yours as you may not be able to find them.