Porto Vromi beach is a quiet, sandy spot, hidden among the natural beauty of Greece, and surrounded by gray rocks on Zakynthos' western shore. Porto Vromi can be difficult to reach from major cities and has very few amenities.
From the top, you can see Porto Vromi at its best. One of the bay's ends is where you will find the beach, which narrows gradually. Although it isn't very large, the beautiful view of the beach with its saturated aquamarine waters and light gray mountains surrounded by grass makes it look like a fjord. The mountains contain natural grottos, which are ideal for snorkeling.
It is a smooth descent, but the depth quickly spikes just a few meters from the shore. The sea bottom coveres with stone. You can rent a boat or deck chairs. You will find everything you need at the bar by the beach.
Geographical Importance of Porto Vromi beach
Porto Vromi Beach II ranks 209th out of 501 beaches within the Ionian Islands 209.3km from the city of Corfu. It is located just 3.2km from the center of Anafonitria. But it is situated in a beautiful natural area, amongst the mountains. It is partly covered by trees that provide natural shade. You should wear special shoes as it is a small bay filled with light pebbles and crystal turquoise water. The water's entrance is very smooth. The beach is ideal for many types of people: lonely travelers, relaxation vacation lovers, and others. Sometimes, the beach crowds in high seasons.
Porto Vromi Beach coast is free for everyone. The beach offers the following amenities: umbrellas and loungers. The beach is easy to access, as it is very close to the road. There is parking right on the beach. Within a radius of 5km, 5 additional beaches are also accessible. The most popular one is Navagio beach, Shipwreck with a rating of 9.6.
Top 3 Beaches in Porto Vromi
1. SHIPWRECK BEACH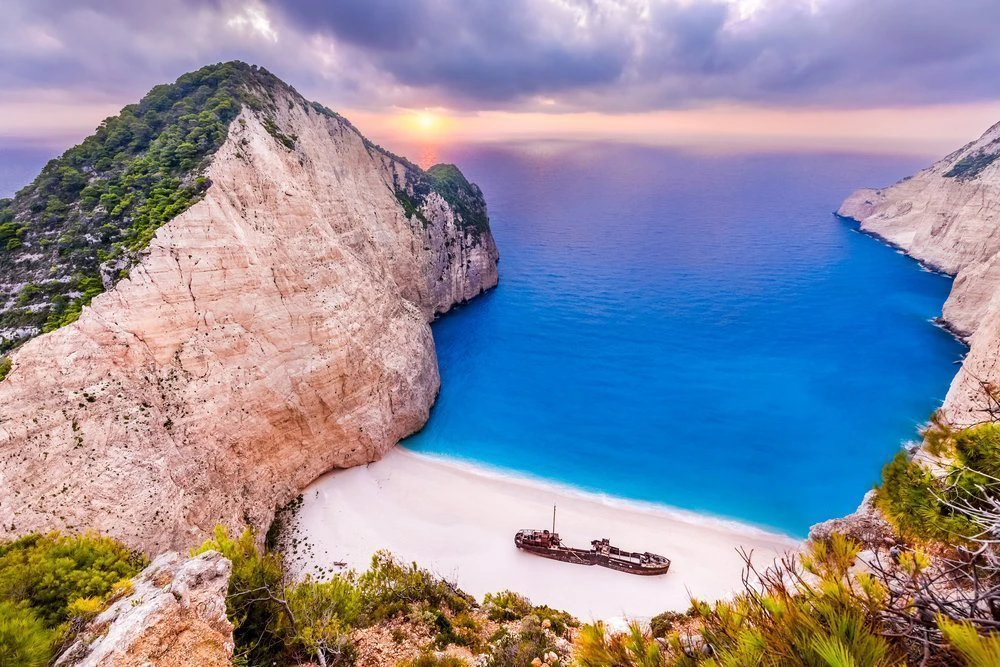 Shipwreck beach is the most popular tourist attraction in Zakynthos. It is the main image of the island and the one that tourists use to plan their holidays in Greece. It is located between two large promontories, and it has breathtaking blue waters. The name Shipwreck Beach is a result of the boat that washed up on the shore in 1980. You should not miss the panorama viewpoint at the top of the promontory that overlooks Shipwreck Beach.
2. PORTO LIMNIONAS BEACH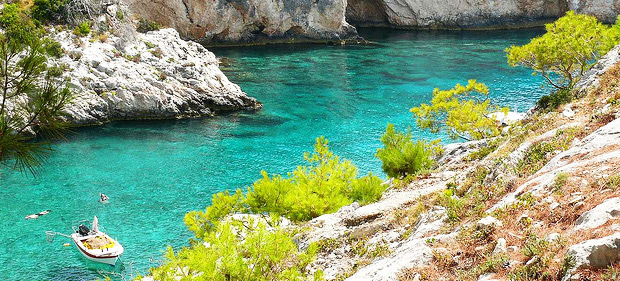 Porto Limnionas is the second most visited spot on this side. Because of the spring water that flows into the bay, the sea is almost like a swimming pool. The Posidonia meadows provide shelter for many fish making it an ideal spot for snorkeling and diving. Porto Limnionas used to offer little shade. However, in recent years it has provided sunbeds and umbrellas at a nominal fee. If you are looking to save money, you can put your towels directly on the many flat rocks.
3. KORAKONISI BEACH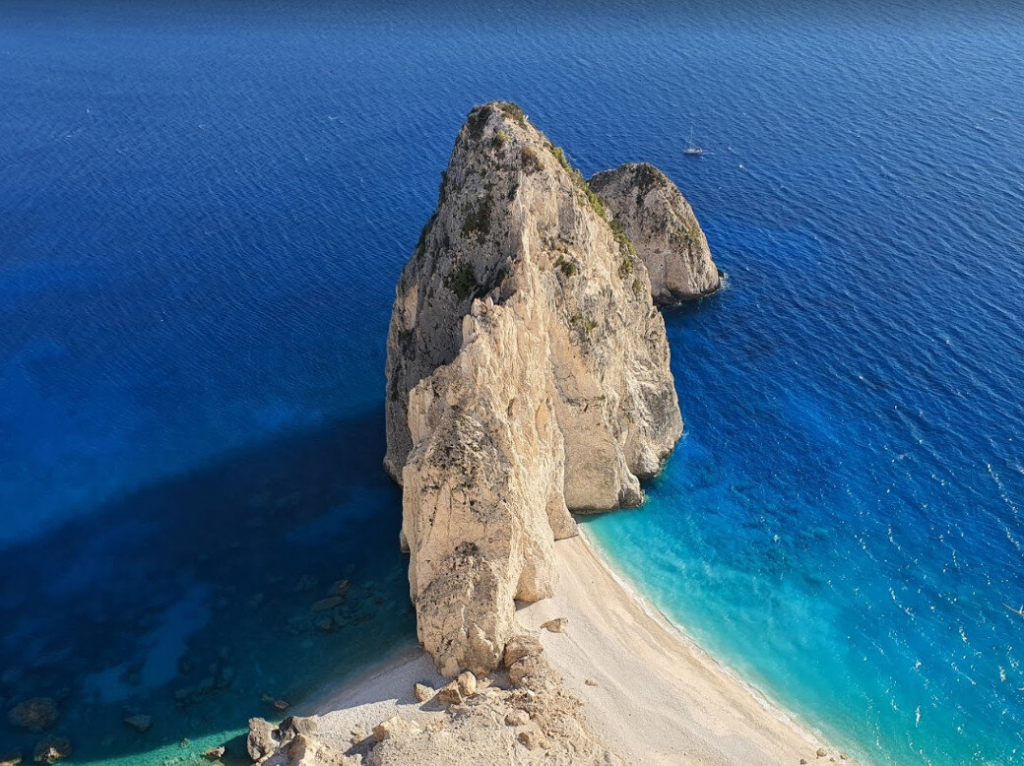 Korakonisi can be found south of Porto Roxa. The beach itself is entirely rocky. To reach the sea, one must descend a series of steps that have been carved into the rock. Korakonisi can almost be considered an island as the sea becomes separated from the mainland when it is rough. This area has deep water and recommends only for experienced swimmers.
What are the best activities at Porto Vromi beach?
Porto Vromi's beach is so poorly maintained that you will be shocked. We recommend you take everything you need to enjoy a wonderful day in a less contaminated area.
Porto Vromi is small, but it offers a bar where you can have a drink or nibble. There's also a rental of sunbeds and umbrellas. And a tavern for fresh fish and an amazing view.
You can also choose to rent, pedal, or rent boats. Also, you can take a seat on one the ferries leaving Porto Vromi that will take you to the Blue Caves or Navagio beaches, each about 30 minutes away from the bay.
Families with children should pay close attention to their little ones. The water can quickly become dangerous and deepen.
What season of the year is ideal for travel to Porto Vromi beach?
Depending on where you are, various pieces of advice will be given for Greece. The holiday season lasts from May to about August. The south islands struggle to achieve 40 degrees because of an excess of tourists. The greatest time to unwind in Greece at the conclusion or beginning of the summer is from September to October.
How can I get to Porto Vromi Beach?
However, there are a few switchbacks ahead of you and you'll need to drive slowly. From here, you can also see the magnificent bay that stretches out into the blue-blue sea. We also recommend that you stop at a safe spot on the street to take lots of memorable photos.
Porto Vromi is also a popular destination for those who have booked or are interested in booking the ferry to reach Navagio or the Blue Caves. Although it's not a place to stay at the beach, it serves as a getaway.
Final Thoughts
Porto Vromi, a coastal village on the west coast of Zakynthos's West Coast, is where you will find this beach. The popular shipwreck is just a few minutes away. Many taxi boats also leave the harbor and go to the white sandy beach. You can also enjoy a meal or a drink in the tavern. On the way to Porto Vromi, you'll be able to see the beautiful bay and the aqua-blue seawater. Although the asphalt road leading to it is in good shape, it winds through mountain terrain.
Porto Vromi boasts a stunning white pebble beach. High season can also make parking difficult. There is also a "cantina " that offers refreshments. Tourists come to this area to sail to Navagio Beach or the Blue Caves. Here you can enjoy the cool ocean water and paddle or canoe along the coast. You can see the bay from the top, with its 50 shades of blue and white rocks.
FAQS
What is the cost of vacation packages to Porto Vromi Beach, Italy?
Combining your hotel stay with your flights to Porto Vromi Beach will also save you a lot of money. You have all the money in your pocket so why not stay a few more nights to discover more?
What are the best holiday packages for Porto Vromi Beach, Italy?
Travelocity offers amazing Porto Vromi Beach packages. Did you know that we have partnered with over 400 airlines and more than 1,000,000 properties around the world? When you are ready to add another destination to your bucket list, keep this in mind.
Why should I buy my Porto Vromi Beach vacation package with Travelocity?
We believe life is also an incredible journey and have everything you need. Book your trip with confidence thanks to our outstanding service and price match guarantee. You can rest easy knowing that we are there for you 24/7.