Nymfes waterfall is a village with a long history and is one of the best. You will feel peaceful when you visit this village in northern Corfu. You can find it about 30km from Corfu Town. It is far from the hustle and bustle of Corfu Town. Nymfes, one of the few villages on Corfu that has a waterfall, is a wonderful spot. It can be found just outside the village amongst the natural beauty. The village is well-known for its water. As I was leaving the village, I noticed an elderly man sitting alone. I felt the need to start a conversation with him. I did. So, I asked him questions about the village. He was proud to be Nymfes' local.
Important Information With Respect to Greece
Greece is a top 20 tourist destination worldwide. It has three things that make it unique: its history and ancient civilization, stunning landscapes, and top touristic destinations. You will find a wide range of experiences in Greece: the warm sun, crystal clear beaches, and dramatic nature, as well as the rich culture and renowned hospitality.
Geographical Importance of Nymfes Waterfall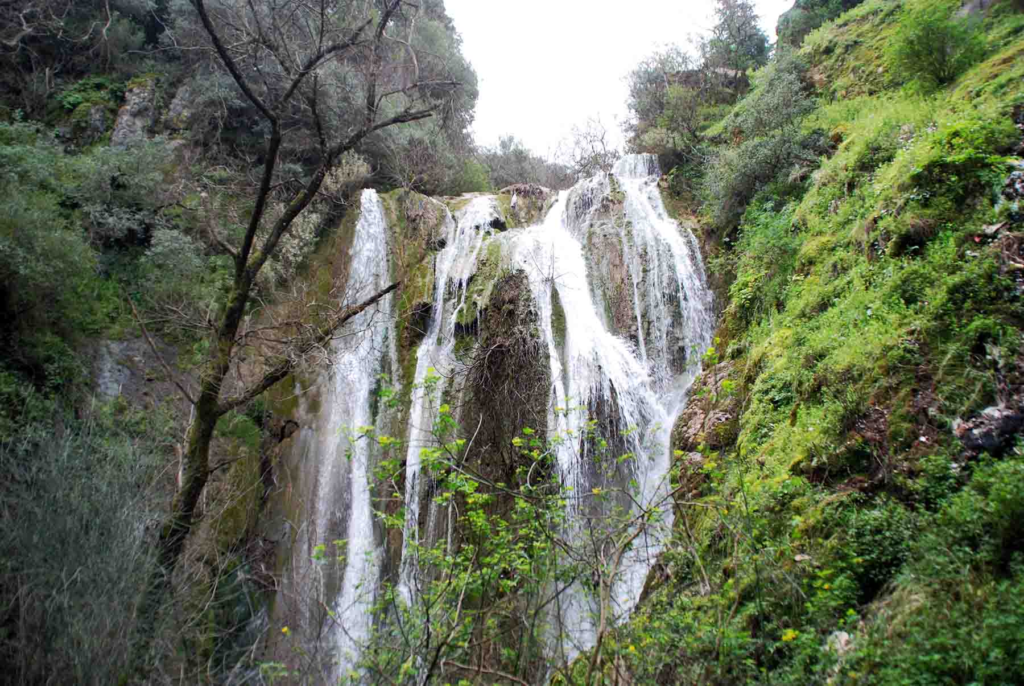 Nymfes is 33km away from Corfu Town, in the northern half of the island. It's located 200m above sea level on the slope of Mount Pantocrator's small valley. It is surrounded by a unique mix of tall cypress oaks, plane trees, and tall cypresses. According to local legends, the waterfalls were named after nymphs (fairies), who bathed there in antiquity. The typical Corfiot architecture of Nymfes is evident with its built-in arches. There are also influences from Venetians and British architecture. Nymfes' Waterfalls is the most spectacular site on the island. They are located outside Nymfes Village. This stunning scenery features waters that fall from more than 10 meters into the ravine.
HERMITAGE OF NYMFES
You can reach this place by passing the square, going up the hill, and taking another right. This will take you to a beautiful cemetery. You will find these beautiful buildings if you park here. Legend says that Artemios Paisios, a hermit from Epirus, came to Corfu. He was lonely and settled in Corfu at the beginning of the 5th Century. You will also find an olive oil mill, as I mentioned earlier, and several other rooms. It is now open and also forms part of the famous Corfu Trail.
You will find a cave if you follow the steps through the forest. Inside, there are icons and candles. You will find a small stream if you continue down the hill. It is a lovely place to hike, and it is not difficult. This was the place our ancestors used for washing their clothes many years ago.
Corfu Sites
1. Corfu Town
Corfu is a charming and romantic place, particularly in its oldest part. This is an excellent example of Byzantine and ancient Venetian art. You will be amazed by its small streets and panoramic views.
The old town of Kerkyra, which is surrounded by the sea, is sealed between two ancient fortresses. The humidity of Corfu is a barrier to the town when you arrive by ferryboat, revealing only the remains of the old houses.
2. Liston
Liston is one of the most famous and central places on Corfu Island. It is a stunning sight with its distinctive arches and architecture, which makes it not only one of the most popular sights on Corfu island but also in Greece.
The Liston pedestrian street is at the end of Spianada. It is the main square on the island, and one of the largest in the Balkans. It is also the main entrance into the narrow cantons of Corfu Old Town. So, it is adjacent to a large area of grass, where you can find cricket matches and other events.
It is surrounded by many attractions that visitors can explore and admire, including the Palace of St. Michael and St. George, the Museum of Asian Art and the Old Fortress, as well as the Holy and Miraculous Catholic Church Of Agios Piridon.
Is Nymfes Waterfalls a beautiful place?
The Nymfes Waterfalls can be found just outside Nymfes' beautiful village. They are located in a lush area of oaks and holly. The island of Corfu offers many advantages to visitors. It is blessed with a great deal of diversity that goes beyond the traditional features of an island, such as endless blue skies and stunning sunsets. There are many hidden treasures such as caves, archeological sites and wetlands, and even waterfalls.
Corfu, the well-known noblewoman of Ionian, is an explorer of her mountain villages which are at a fair distance from the sea. She shares her valuable jewels with them because they are so beautiful. The mountain slopes of Mount Pantokrator are rich in vegetation and contain mythological secrets, as well as rivers, fairies, and enchanting waterfalls.
Which activities perform at Nymfes Waterfall?
One of the most enjoyable things to do in northern Greece is to travel to Corfu. You will also have lots of fun in Corfu, which offers many sights and activities. The following list will reveal the top things to do in Corfu. You don't need a car rental to explore the island. Instead, you can use Sightseeing Hop On-Hop Off-Bus*. This is an excellent way to discover the island.
How to find the best villas at Nymfes Waterfall?
Nymfes Corfu Villas boasts a swimming pool and is just a 10-minute drive from Nymfai's heart. The villa has 3 bedrooms and includes a bathroom with a shower, a kitchen, and a toilet. The property offers airport transfer and food delivery services. In Bar is a 40-minute drive away. Angel's Horses is located nearby. Each room also has air conditioning, a high ceiling, and a dining area. Some rooms also have a balcony. The villa features tiled floors. The marble bathroom has a hairdryer and free toiletries.
Final Thoughts
Corfu is also a member of the Ionian islands group. It has a rich history and rich traditions. Its multifaceted nature is due to the numerous conquerors who have landed on the island over the centuries. These include the British and Italians who have left a mark on local culture and architecture. There are also parallels between Venice and Florence.
The Waterfalls of Nymfes are the most spectacular on the island. Then follow a dirt road through rural areas for approximately a kilometer. Rapid waters plunge from a height of more than 10 meters into the ravine. So, there are two other smaller waterfalls nearby.