Anthony Quinn Bay can be found on the island's eastern coastline, right next to Faliraki. This tiny cove is home to this beach, which measures 10 m in width and 250 m long. It has rocks, pebbles, and fine sand inside and out. The beautiful emerald colours of the environment are made possible by the presence of pine trees. People who enjoy swimming in private lagoons, diving, snorkelling, or simply gazing at the rocks on the beach are all welcome. For a relaxing swim, all excursion boats as well as sailboats are welcome to stop at the bay.
The fascinating archeologically remains of ancient Rhodes, a Greek island in the Mediterranean, and remnants of occupation by Knights of St. John are some of its most notable features. Rhodes also has beautiful beaches and resorts. You can't miss Anthony Quinn Bay, a famously named bay in Rhodes, Greece.
Discover More About Anthony Quinn Beach
Anthony Quinn Bay can be found on Rhodes Island, just 4 km south of Faliraki. Since actor Anthony Quinn purchased the Rhodes area for filming "The Guns of Navarone," it has been known as this. It is easy to see why Quinn fell in love with the area's natural stone surfaces, which make great places to relax and enjoy the sun. Anthony Quinn Bay's water is beautiful green thanks to the greenery surrounding it.
However, the sharp rocks on the shore and in water make it not suitable for young children. Anthony Quinn Bay's small beach can get crowded during the summer months. There is a cafeteria at the top of the bay's rock formations where you can have refreshments.
Things to See Around Anthony Quinn Beach
You can combine a trip to Anthony Quinn Bay with an excursion to nearby places of interest: Faliraki and Ladiko. Faliraki, a village near the sea, is 14 kilometres from Rhodes. The area has experienced a lot of tourist growth in the past few decades. You will find all you need in Faliraki: bars, restaurants, taverns, shops, organised beaches and large, luxurious hotels.
Another beach, Ladiko beach, is located west of Anthony Quinn Bay. It is similar to Faliraki but is more cosmopolitan. In addition to sun loungers, umbrellas, and bars, it is very well and contains a centre for participating in water sports. Ladiko is a great place to rock climb in Rhodes. Kallithea springs is another attraction near Anthony Quinn Bay. It is a natural thermal bath by the sea.
Anthony Quinn Beach: Activities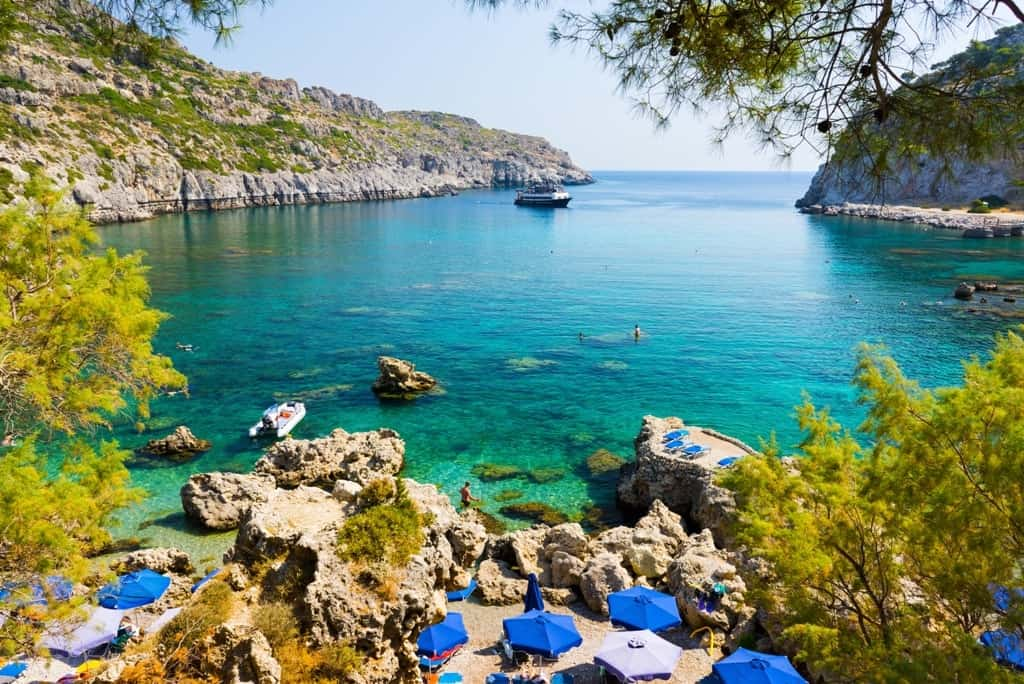 This idyllic bay is located on Rhodes' east coastline and is ideal for sunbathing or scuba diving. This small, charming cove is the perfect spot to enjoy the natural beauty of the Aegean Sea.
From the road side, there is a staircase that leads down to the beach. There you will find the narrow stretch of golden sand and pebbles with large rocks scattered between them. The forested cliffs shield the beach from the savage wind and sun.
Renting an umbrella and sun lounger can help you find the best spot for sunbathing on the beach. If you don't feel like this, you can simply stretch out on the flat rock that juts from the middle.
Anthony Quinn Bay is a great place to take a dip in the warm, emerald-green water. Young children should be accompanied by an adult when you enter the water. You can also scuba dive and snorkel in the crystal-clear sea.
What is available for food around Anthony?
Kounna Beach and Resto Bar are located at the bay's top, near the car park. They offer incredible views of Anthony Quinn Bay, as well as delicious food.
This place offers both traditional Greek and western European cuisines. It is well worth booking. We were able to walk into the restaurant in May, and we were able grab one of the seats that looked out on the beach. To save your seat, call ahead or stop in before you go to the beach during the summer months.
The Greek Salad is what I will be ordering next time I go. The dish comes in a huge jar filled with layers of feta cheese, olive oil, tomatoes and olives as well as cucumbers, red onions, tomatoes, cucumbers, peppers, and herbs. On a platter for two, this Greek salad was served with a few sides.
How do I reach Anthony Quin Beach?
Follow the Provincial Road Rhodes-Lindos to the Kallithea sign if you're traveling from Anthony Quinn Bay or Rhodes Town to Anthony Quinn Beach. After travelling approximately 15 kms, you will reach the beach in 20 minutes. Alternatively, you can take the Provincial Road Rhodes Kallithea which is approximately 17 kms long and takes 25 minutes to reach. You have the option to take a taxi or ride the shuttle bus. Or you can go on a cruise.
Taxi: While it is more expensive, the taxi is faster and more practical than the other options. Before you get in, make sure to ask the driver for the exact fare. This will avoid any unpleasant surprises. Most routes in Rhodes have fixed taxi prices.
Shuttle bus: The shuttle bus takes you to Anthony Quinn Bay a few times a day. Itineraries can be requested to help you plan your day.
Cruise: Every day, the daily cruises to Anthony Quinn Bay depart from Rhodes Mandraki harbour. This is the slowest option but offers the most scenic and interesting options. Some cruises also offer swim stops.
Is Anthony Quin Bay accessible?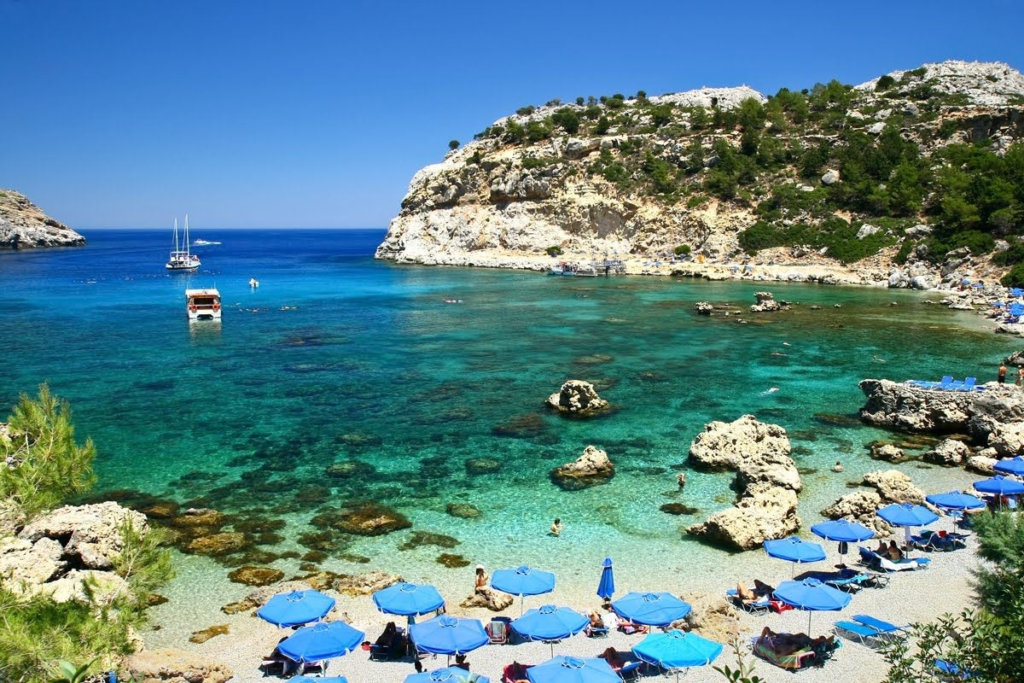 Anthony Quinn Bay's main entry route is a set of steps that leads down from the parking lot. They can be a little difficult for people with mobility problems. Because there is a slope that leads to the beach. This can be a good option if you are unable to use stairs or have difficulty pushing a stroller.
Although we didn't take this route to the beaches, it was steep at times. However, people were taking prams and toddlers along this route so it's an option for those who can't climb the stairs.
Anthony Quin Bay: Where to Stay
Anthony Quinn Bay is a place of natural beauty that the authorities are trying to protect. There are not many large hotels located right by the beach. There are plenty of accommodation options around. You can rent a car and drive to the bay. However, it takes only a few minutes. Faliraki is a popular choice because it offers more choices for accommodation and other conveniences (markets, shops, etc.).