Antisamos Beach can be found 30 km northeast of Argostoli. It takes about 35 minutes to reach there. To get there, you can take a taxi. It is just a few kilometers from the port at Sami. The Hollywood production "Captain Corelli's Mandolin" starring Nicolas Cage and Penelope Cruz, Christian Bale. It brought Kefalonia a lot of publicity and glamor. The entire area of Sami was used as a backdrop to show the actors from Kefalonia in 1943. Antisamos was where Captain Corelli was captured with the explosive scene that created one of the most spectacular effects. You can also book a taxi with our local partner firm if you need to get to your apartment/hotel/shop. The blue sea meets the southern portion of Ithaca. These two islands are so close that it might be hard to tell the difference.
There are many restaurants, bars, and a watersports center that will provide you with adventure and food. Which includes turquoise waters and lush green hills with lush vegetation. This stunning scene is what makes this area so attractive and draws everyone to it. The hill is home to a wonderful spot for nature lovers and sunbathers. The monastery of Agrillion, which is located on the top of the hill, is also worth a visit.
What is Antisamos Beach like?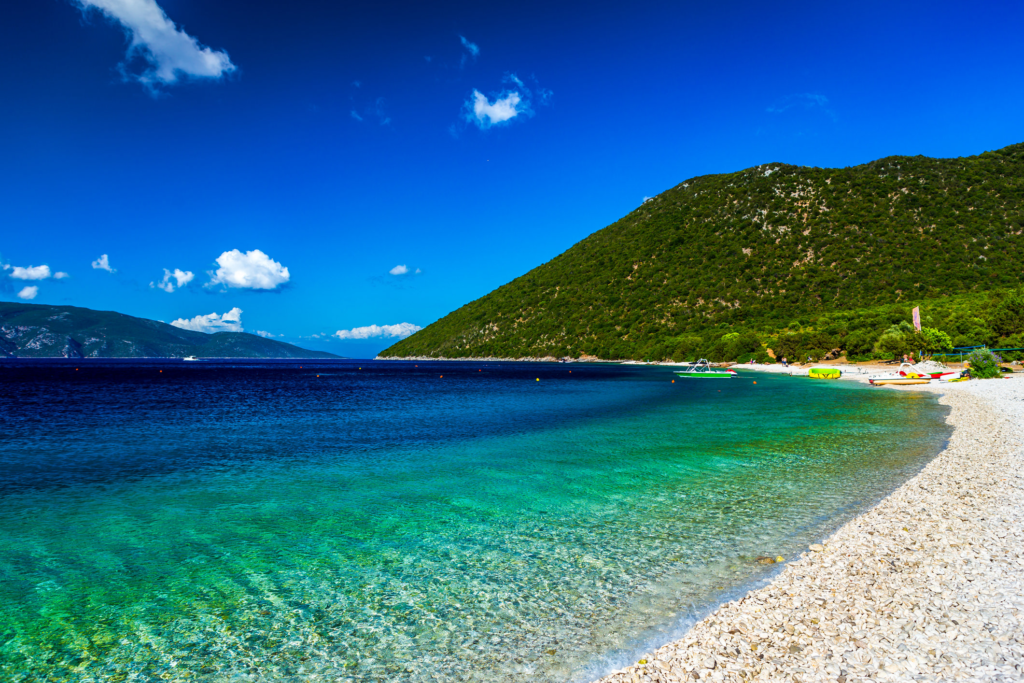 Antisamos beach lies close to the resort Sami, on the east coast of Kefalonia. It is also just 45 minutes away from the capital Argostoli. Antisamos is well-known as the setting for Captain Corelli's Mandolin. Antisamos has a pebble beach with loungers at the front of two taverns. But it does not mean there isn't enough space to relax away from the tavernas. Beach shoes are a must as the pebbles can make it difficult to walk on.
If you are also looking for a prime spot, it is best to arrive early in high-season. You can find many water sports on Antisamos, including banana boats, pedalos and canoeing, as well as jet skis, banana boats, pedalos, canoeing and water skiing. You'll also find music in the tavernas. If you rent a sunlounger, you can also get table service at the chic beach bar. It's easy to get to Antisamos. If you travel north from Sami you will find the beach. Once there, you will also find a large, free parking lot at the end of the beach.
How to get to Antisamos Beach?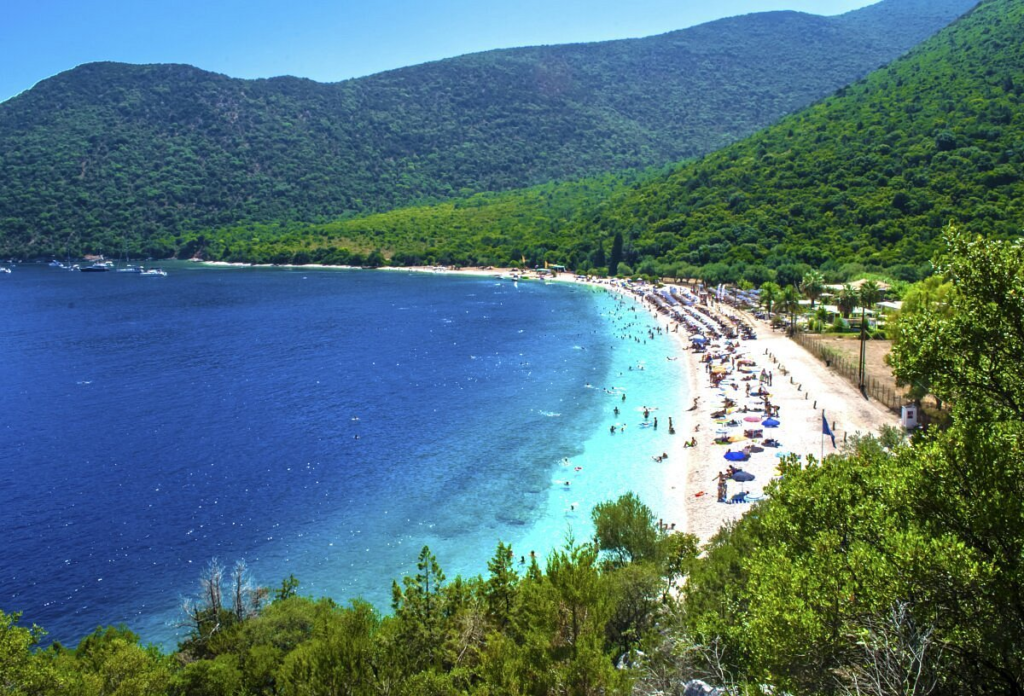 Take a day trip to AntiSamos. You can reach Antisamos by either driving or taking a private tour. From Argostoli, the drive takes approximately 40 minutes. There is ample parking space available for your vehicle once you have reached the beach. It is a short walk to the sea and sand from there. Many companies offer private tours of Kefalonia. Most will take you to AntiSamos or Myrtos Beach. You will travel along the scenic route to Amari Villa via Omala Valley and Drogarati Caves. You can take a bus to Antisamos if you are staying in one of the nearby villages, such as Lassi, or Skala. It takes approximately 45 minutes to get there. Antisamos is a very popular destination. Parking is available for free.
Facilities at Antisamos Beach
You don't have to travel far to enjoy a tasty meal or a refreshing drink. You can eat at the on-site bars and restaurants, and stay hydrated all day. There are many options for accommodation nearby if you want to rest your head near the sand or sea when you're done with your day.
Sunbeds and umbrellas are available for rent and are affordable. Every day, lifeguards are on duty from 7 a.m. to 6 p.m., making sure everyone has a safe and enjoyable time at the beach. A few beach bars/taverns offer food and drinks as well as sunbed rental.
Activities at Antisamos Beach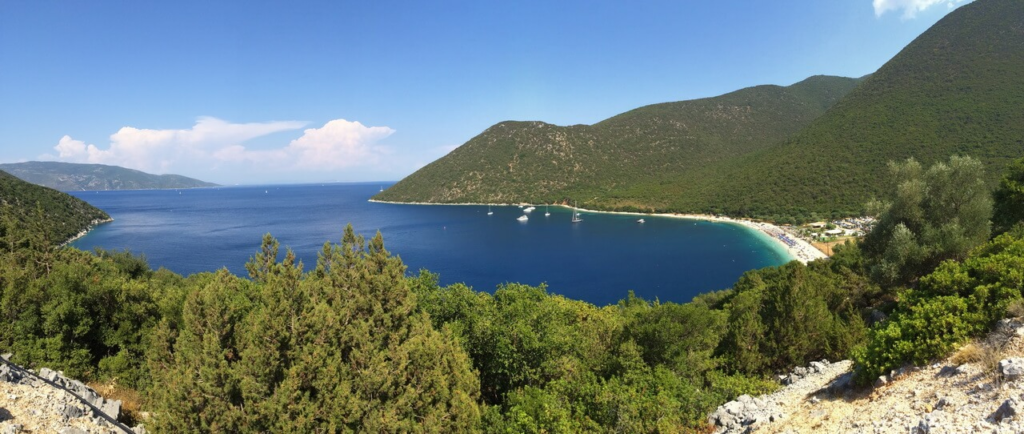 You don't have to go far to have fun at the beach. There are many activities on Antisamos Beach to keep you busy. Try your hand at paddleboarding or windsurfing if you are looking for excitement. You can also enjoy water sports like swimming and snorkeling on the beach. Make sure to bring your sun protection gear and snorkeling gear. The beach's water sports school rents equipment and has instructors who can help you learn any of the available sports. You can also enjoy group lessons with your friends. You will love this Seaside location and also plan to return again and again.
Antisamos Beach is one of the most Beautiful Location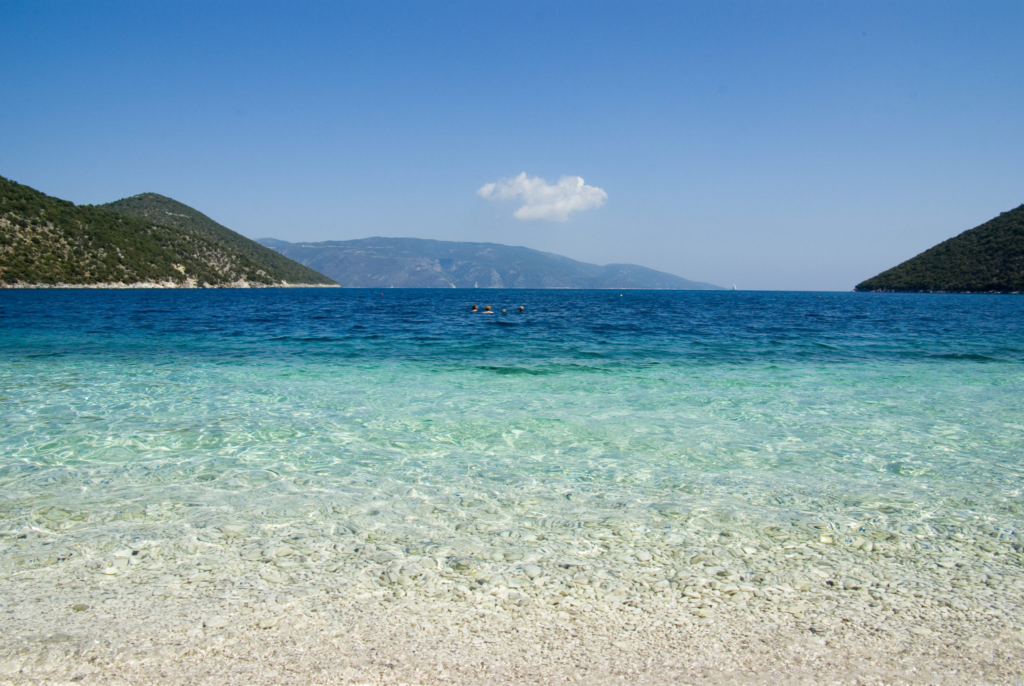 Antisamos ' beautiful beach is one of the most popular and well-known spots on Kefalonia. It is approximately 22 km from the town of Argostoli, and a short distance away from the village Sami. The bay is large and characterized by beautiful white pebbles. The water is transparent enough that you can also see the fish and can even dive without a mask.
Let's see what Sami has to offer. Watersport in Antisamos. Melissani cave, Karavomilos Lake, and Agia Efimia.
1: Water Sports at Antisamos Beaches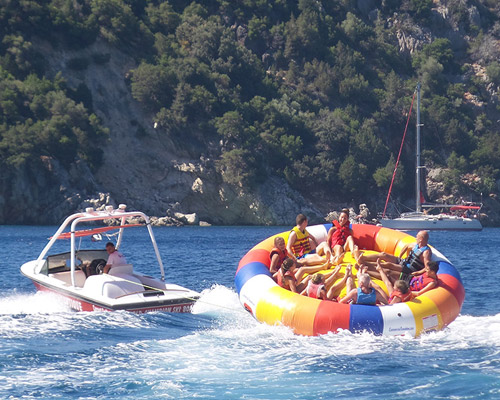 Antisamos' beach is equipped with bars and umbrellas, and offers many water sports. It is crowded in summer but has plenty of room for everyone.
2: Melissani cave and its underground lake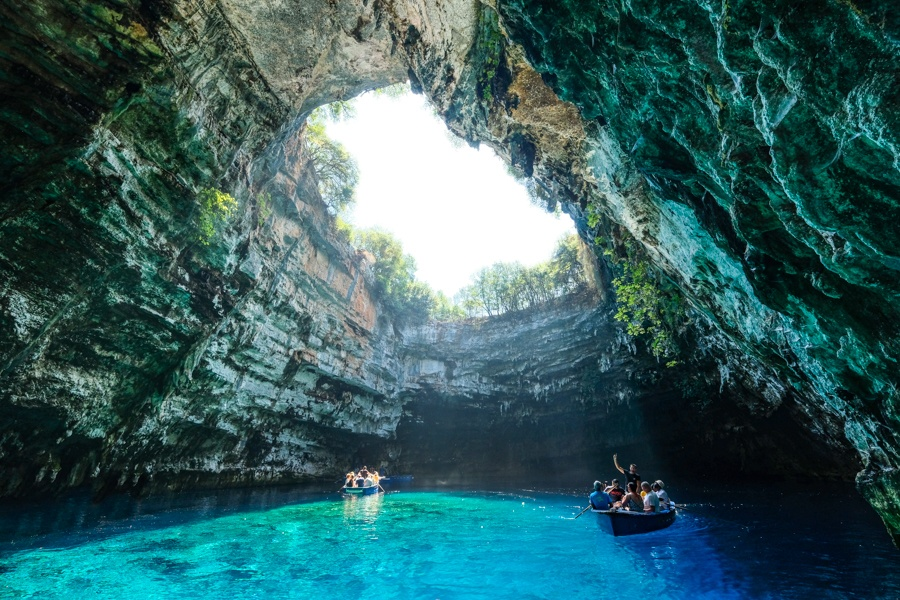 Although the cave was first identified in 1951, the 1953 earthquake destroyed the vault and made it open to the sky. They range from deep blue to turquoise and emerald to green.
3: Lake Karavomilos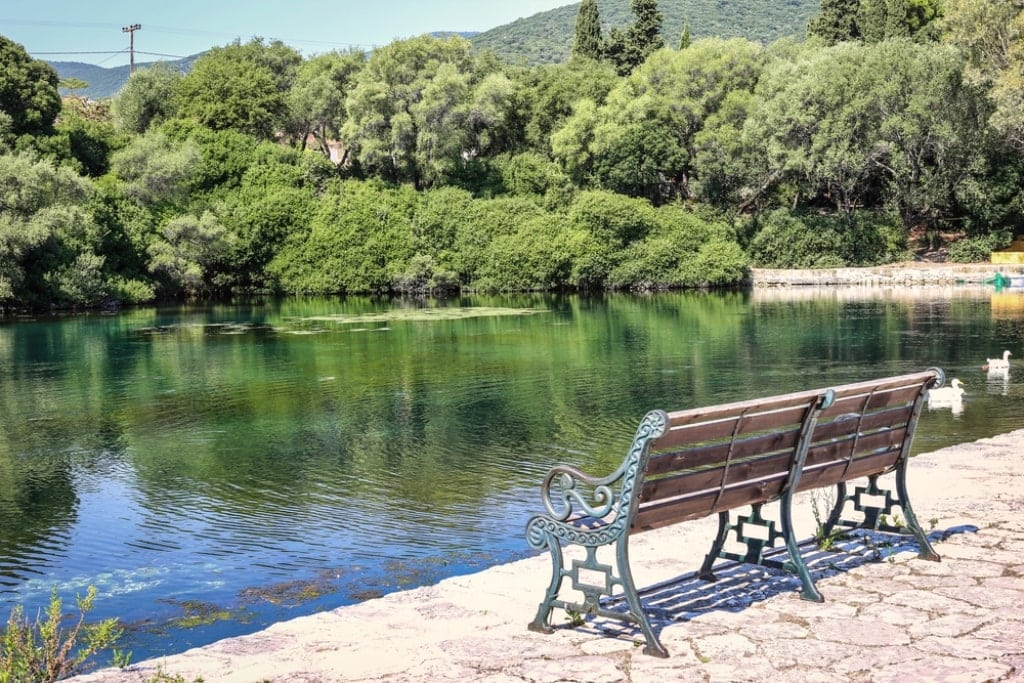 The strange geological phenomenon that also created this lake in Kefalonia ( Greece) has been documented by researchers. It is believed that the water on the other side of Kefalonia flows for several kilometers under Kefalonia. After you have visited Melissani Cave, take your children to this lake, where they will love looking at the ducks, geese and also fish.
Conclusion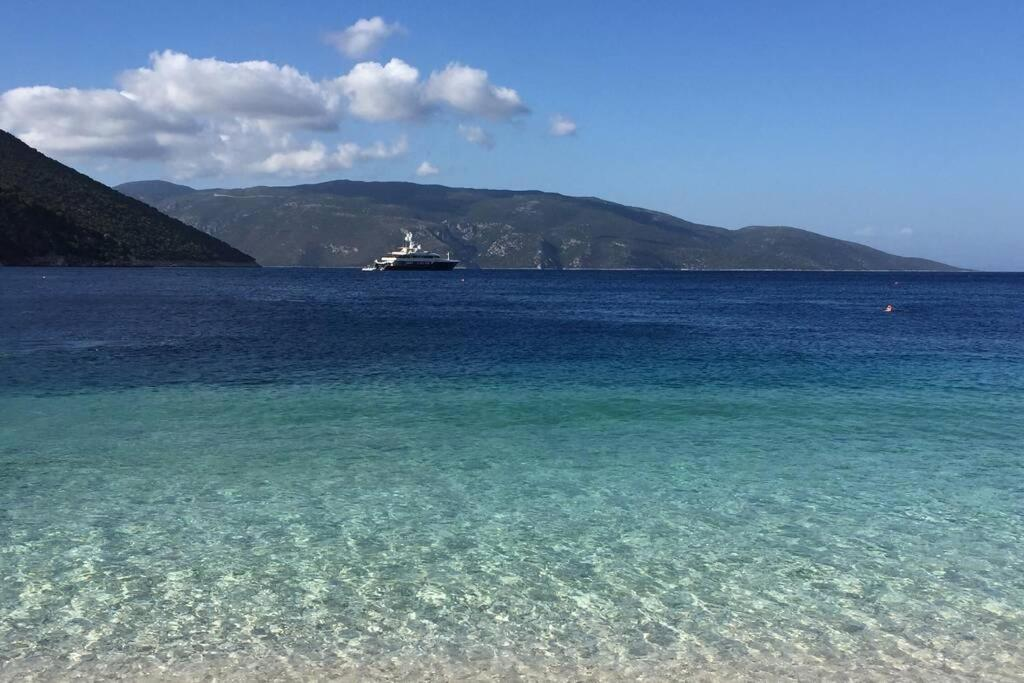 The beach at Antisamos, which is also the most beautiful on Kefalonia. We recommend that you leave early in the morning to enjoy it to its fullest. Imagine the tranquility of the green hills that also plunge into turquoise waters. Then, take the opportunity to snorkel or swim with the fish in the clear Antisamos Sea. Take the time to visit the nearby ruins of ancient Sami after a day at the sea.