Porto Limnionas Beach is near Agios Leon, and 2km from Porto Roxa. It is actually a type of fjord. It isn't surrounded by any sand and is surrounded by very high white rocks with lots of green. The beach is bathed in a stunning, clear sea. The freshwater springs from the subsoil make these waters a little bit cold. These unique characteristics make it one of the most beautiful and wildest places on Zakynthos.
Geographical Importance of Porto Limnionas Beach
Porto Limnionas, which is not really a beach but a fjord off the coast of Zakynthos(Zante), where people can relax on the rocks or swim in the ocean, isn't actually a beach. It is approximately 30 km from the island capital Zakynthos Town, which takes just over 45 minutes. Although the climb down a steep, rocky hill can be difficult, the breathtaking views at Porto Limnionas are well worth it. This stunning turquoise water is a perfect setting for a swim. It is recommended to wear water shoes as rocks can be slippery.
Although there is not much space to sunbathe, there are sun loungers located on the rocks near the taverna. However, with so many things happening below the waves, you won't want to miss your chance to get your tan. The weathered limestone that surrounds the swimming hole helps keep the afternoon sun from the water. Parking is available for 50+ cars near the taverna. If not, you can park on the streetside.
Activities at Porto Limnionas Beach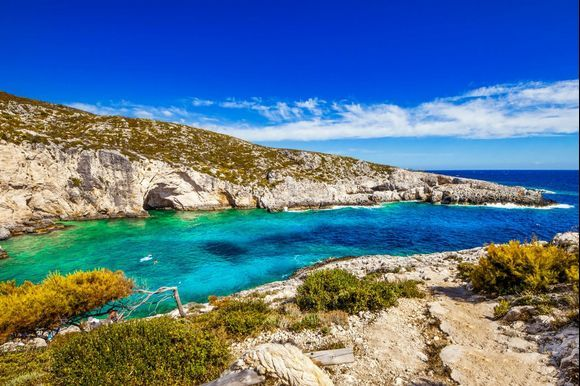 The caves provide snorkelers with the chance to explore the beautiful marine fauna that inhabits the seabed. Porto Limnionas' beach isn't very well equipped but its stunning panorama makes it special. You will still find a terrace where you can relax on a deckchair under an umbrella. However, it is not often possible to get a seat and enjoy the sun. We recommend you bring a beach towel. If the spots under the umbrellas aren't enough, you can place the towel directly on the rock and take a break from the elements. Here you can enjoy delicious fresh fish and a stunning view of Porto Limnionas.
Porto Limnionas Facilities
The Porto Limnionas Tavern has great facilities on the beach. They offer delicious food and drinks and also beach chairs that rents with umbrellas.
You can save money by swimming and enjoying the views at Porto Limnionas. After lunch, move on to Porto Rosso, where you will find lounge chairs and umbrellas free of charge when you order a beverage.
We were not able to rent snorkels and masks while we were there. However, this area is great for snorkeling on Zante Island. There are many caves here to explore and the visibility is amazing.
Top 3 Hotels at Porto Limnionas Beach
Porto Limnionas is not a great location for hotels, so it's not a good idea to plan to stay there just to visit the cove. Porto is a beautiful and good place for tourists. Stay in one of the most popular spots on Zakynthos Island, and you can visit Porto Limnionas only for a few hours as part of your day trip. These are some other great hotels on the island.
1. Keri Village
Keri Village can still be found on the west side, about a 45-minute drive from Porto Limnionas. There are a number of great hotels in this area, including Keri Village & Spa (rooms starting at $117/night) or Revera Stone Villas ($45/night). You can also see the stunning Keri Cliffs or the Keri Lighthouse from this town.
2. Keri Beach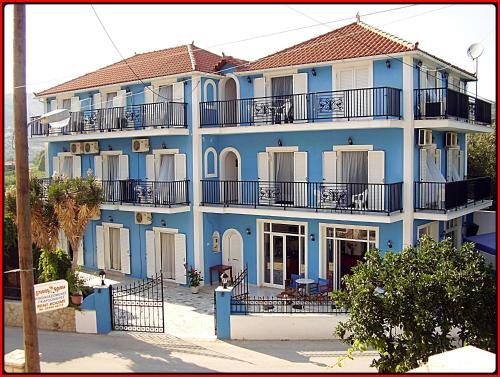 Two Keris can be found on Zakynthos. One is located on the west coast, perched on the famous cliffs. The other is Keri Beach on the east coast, about 15 minutes from Keri Village. You will find a cool apartment and hotel options here like Blue Lake (rooms starting at $42/night) or Villa Regina(rooms starting at $40/night).
3. Laganas Beach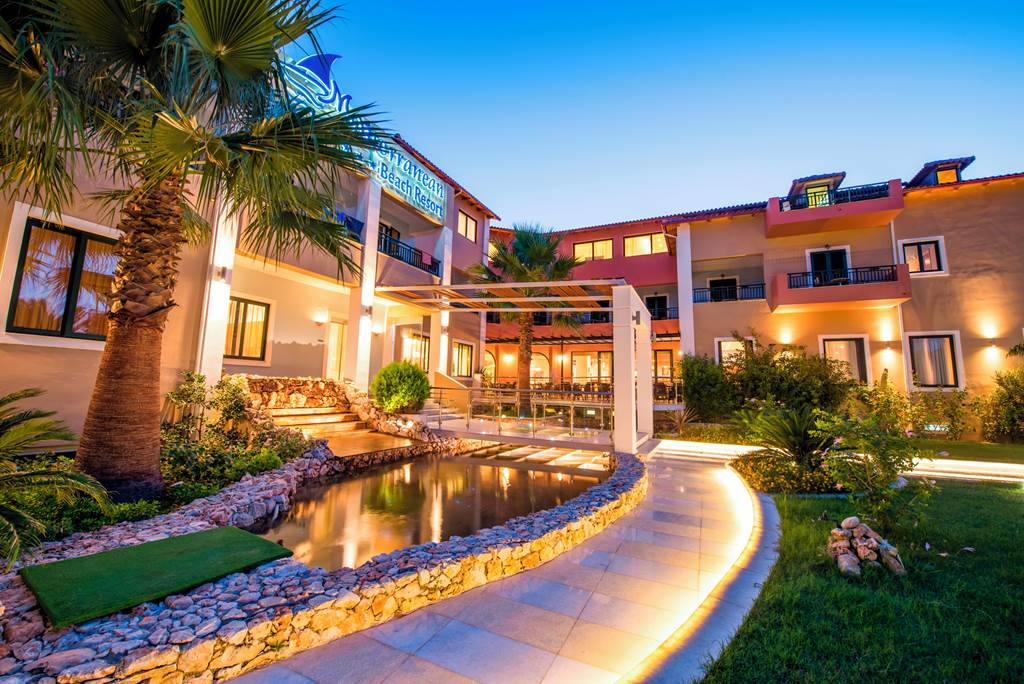 This is the most sought-after place to stay in Zakynthos. There is also a beautiful beach and the best nightlife in the area. Although it can get crowded with young party-goers during high season, it is still a great place to stay. Popular choices include The Mediterranean Beach Hotel with rooms starting at $80/night and Agave boutique Hotel with rooms starting at $47/night.
Best Time To Visit Porto Limnionas Zakynthos
Porto Limnionas is a high cliff area. This means that the weather can change dramatically depending on the position of the sun and the amount of sunshine or cloudiness. It is best to visit Porto Limnionas during the best season. The shoulder season is our favorite time to visit Greece. It can be in the spring (March to May), or the fall (September-early-November). Although the weather is less predictable and can be very cold at these times, there are far fewer people.
Where can I find Porto Limnionas?
You will need to first get to Agios León, then follow the road signs to return to the beach. After a short distance, you will arrive at the large Limnionas parking lot. You can park your car at no cost. The tavern and cars will immediately identify it. You will be able to see this natural wonder once you have completed the steps.
Final Thoughts
It is one the most remote places on the island, and perhaps because of this, it is the most beautiful and wildest of all. You will need to go through Agios Leon, a mountain village. From there follow the signs and drive down a newly asphalted road that runs down to the sea. It ends in a small parking lot. After descending a few steps into the rock, the water is crystal clear and the colors are stunning. It is easy to see that there are few tourist facilities in this area. Recently, two terraces with umbrellas and loungers creates. However, they are not always sufficient.
It is worth going to the first cave and just walking down the steps. Once you are in the water, it becomes clear that the cave will continue. But this cave is only for extreme sports enthusiasts.
We recommend to everyone, especially those with their own boat visit Porto Roxa which is just 3 km from Porto Limnionas. Another small bay has a slipway for boats to be lowered into the water. This is a beautiful area of the coast.