Voulisma Beach can be found in the eastern part of Crete, near Istro. Voulisma Beach, which is located in a beautiful bay with a protected entrance, is the main beach. It has beautiful turquoise waters that are calm and shallow. Golden beach is known for its fine-grained golden sand.
There are many modern amenities, such as sun loungers and umbrellas that can be rented here. You also have a variety of beachside cafes or restaurants. Despite its popularity, this is still a peaceful spot. Voulisma is an excellent spot to take a dip in the calm waters. However, be aware of water sports.
It is renowned for its stunning beauty, making it one of the most popular beaches in East Crete. It is located in a protected cove north of Ierapetra and south of Agios Nikolaos. Voulisma beach offers many amazing highlights.
Where is Voulisma Beach located?
Istro or Istron is a small village in the Eastern region of Crete. It is situated 12 km south of Agios Nikolaos. The small town Pacheia Ammos lies 7 km to the east. It is only 50 km from Heraklion.
Voulisma Beach is a popular beach in the northeast region of Crete. It is easily accessible, well-maintained, and offers food, drink, and entertainment on the water.
Activities available at Voulisma Beach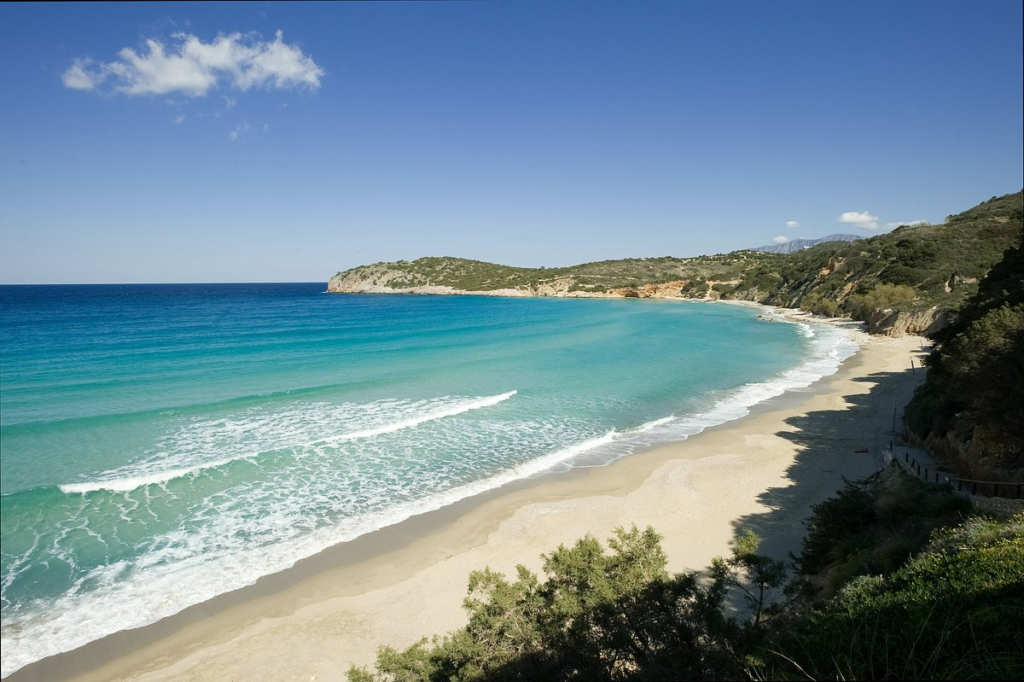 Do you prefer to lie on a sunbed, or ride a jetski? You have the option to choose from two options at this beach. It has a long stretch of golden sand that is ideal for building sandcastles together with your kids. But if you want something more adventurous or daring, you can also rent jet skis, an inflatable ride, and pedaloes.
A canteen is located at the top of the steps, which also offers waiter service for your sunbed. Only 15 euros for two sunbeds and an umbrella. You will also find a lady who offers massages on the beach quite often. Do not hesitate to ask for a full-body massage from her and enjoy total relaxation.
The beach's scenery changes when it is windy or there are waves. You can then find surfers on the beach and, if you're feeling energetic, join them!
Best restaurants around Voulisma Beach
1. Taverna Kavos
This is a great spot right above the beach! The playground is family-friendly and will keep your children entertained until you get your food. Taverna Kavos serves traditional Cretan food, and the owners are friendly and helpful.
2. Meraki
This is the perfect place to finish your day after a relaxing swim at the beach. It is located opposite the beautiful Voulisma beach. The owners prepare delicious meals from local produce and serve them with lots of love. Meraki offers great food and great service with a surprise dessert!
3. Mama Lukia
Mama Lukia is a family-run tavern that is owned and operated by Istro residents. Eleni and her family offer their Cretan cuisine every day. They serve Antikristo every Saturday and Sunday. This is a popular traditional lamb dish. The decor was completely redesigned this year to create a warm and welcoming atmosphere.
Voulisma Beach Travel Dates: Weather
The Voulisma Beach weather is similar to most of Crete's climate. It enjoys a mild climate all year thanks to the Mediterranean Sea. The summers are hot and dry with little rain.
The weather in Crete is much more pleasant than that of most other continents. Voulisma Beach's daily average temperature drops to 10/12 (low/high) in January. Crete is one reason why it is one of Europe's most popular places to visit in winter.
Voulisma Beach can get very crowded in July/August so it is best that you visit during the shoulder seasons. The best months for great weather and fewer tourists are May-June through September-October. You will find it less crowded in the morning and late afternoon.
How to get to Voulisma beach?
You can rent a car to take you to Istron beach. This is the best way for you to discover Crete's many fascinating villages, settlements, monuments, cosmopolitan towns, and stunning beauty of Crete. All types of travelers can benefit from our local car rentals, which offer affordable and high-quality car rental services. You can choose from luxury or economy packages, and you will have a fleet of high-quality cars that are fully insured and equipped with various amenities to make your trip more enjoyable. Book a vehicle online or by calling (+30) 6970980918. (Whatsapp & Viber) Visit our website and select one of our cars.
Only if you're in the village of Istro. You can also reach Elounda and Agios Nikolaos by bus, as well from Heraklion.
Voulisma is also the ideal beach for those who want to live in a beautiful bay with everything they need. Relax, enjoy the local cuisine, and enjoy the day at the sea…the smell of the ocean!
An organized excursion for a small number of people. Our hassle-free services will give you the peace of mind that you need.
It is a positive experience to travel. It changes your perception of life and gives you memories that will last a lifetime. We can also customize our tours to meet your requirements.
Is Voulisma beach equipped?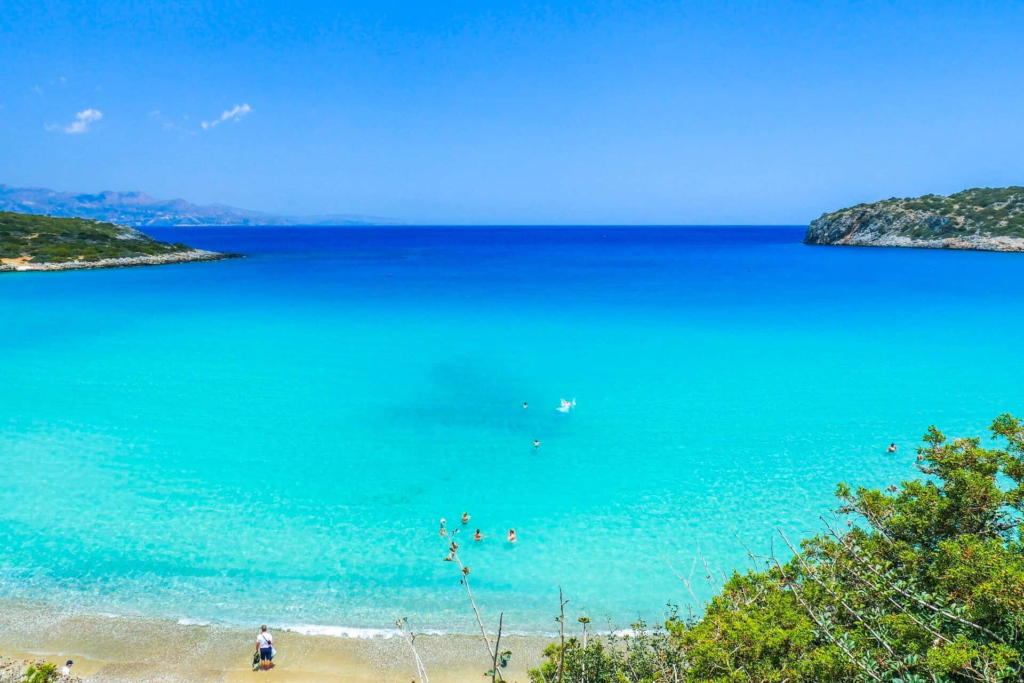 Voulisma Beach has a snackbar. It is located above the beach, accessible via a long staircase. Here you can enjoy a variety of snacks and drinks while taking in the stunning view from the terrace. You can also rent sunbeds and umbrellas in the main area of the beach. There are also toilets, showers, and facilities to practice any water sport you wish, from water skiing to jet skis. We recommends snorkeling as the best sport to do since Voulisma's marine fauna deserves to sees.
You can also go to the cove at the west end of the beach if you prefer to be away from the tourist areas and crowds. This will allow you to relax completely, without any distractions, and it also provides wind protection. There is nothing better!
Remember that the beach full of crowds, especially during weekends and high season. So make sure you arrive early to enjoy the beautiful Voulisma bay as nature intended. Voulisma beach also loves by everyone: singles, couples, and families with kids. It's hard to lose it, I think! Voulisma is the ideal beach for those who want to live in a beautiful bay with everything they need. Relax, enjoy the local cuisine, and enjoy the day at sea…the smell of the ocean!
Information about Voulisma
The Blue Flag organization has awarded Voulisma beach its title.
For most of the day, lifeguards are available.
There are showers, toilets, and a changing area on the beach.
Tree shade is also an option if you don't have a place to put your umbrella and sunbed.
Accessing a wheelchair may be difficult
Final Thoughts
Voulisma Beach offers a wonderful beach vacation destination with its white sand and top-class facilities. You can also visit Minoan ruins or hike through a beautiful canyon, discover a unique plateau, or simply beach-hop along the coast. You can also relax on your sunbed to enjoy the stunning views at Mirabello Bay.